This photo was taken on September 18, 2013, when The Americana Music Association named Larry Instrumentalist of the Year
at The Americana Honors and Awards show held at the Ryman Auditorium in Nashville, Tennessee.
Jim Lauderdale hosted the ceremonies, and Larry performed with Buddy Miller who led the all-star band.
The other nominees for Instrumentalist of the Year were Doug Lancio, Greg Leisz, Jay Bellerose and Mike Bub.
---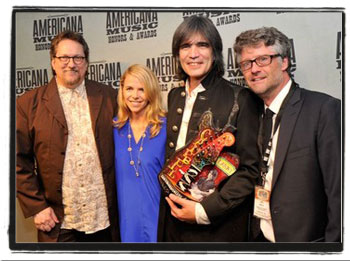 With Jerry Douglas, Aoife O'Donovan and Jed Hilly